Why had we never been to this little gem?! My cousin came in town and we decided to meet her and her kids at the children's museum. It was SO much fun! My girls had a blast and could have lasted all day (if we had been smart enough to pack a lunch) Honestly, I thought they'd be done after an hour, but we stayed for 3. And they were mad when we were leaving. I'm thinking I need to get a season pass to this place, I just wish it was a little closer or we'd go every day! Ha I couldn't even get one good picture of these two smiling because they were on the go the whole time.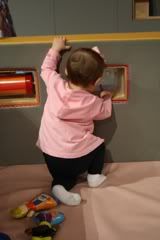 Peek-A-Boo!
Brynlee's favorite place, "her stage"
Taking a break for about 5 seconds..
They were doing a fairytale exhibit while we were there and had all sorts of fun dress ups! Brynlee was in heaven when she saw the shoe department :)